Dressed in a Barbie costume, one little girl spent all of Halloween evening running from house to house on her tiptoes! Her Daddy kept asking her why she was doing that and cautioning her she was going to fall. The answer was simple: "Barbie only walks on her tiptoes!" Thus, another generation of women with foot problems is already in the making.
According to the American Academy of Orthopedic Surgeons (AAOS), Americans are spending in excess of $2 billion a year to have foot surgery, and about $3.5 billion if you include the costs of recovery and being off work.
While genetics can provide a predisposition towards developing foot problems, the real culprit is women's shoes. As the AAOS points out, "Improperly-fitting shoes, which can cause bunions, corns, calluses, hammertoes, and other disabling foot problems, are a huge public health risk in the U.S....One in six persons or 43.1 million people in the U.S. have foot problems. Thirty-six percent regard their foot problems as serious enough to warrant medical attention."
Furthermore, the AAOS reports that women are nine times more likely to develop a foot problem because of improper fitting shoes than a man. They are willing to wear shoes which are painful, which are too small for their feet, and which put their feet in positions not intended to support their weight (ie: high heels).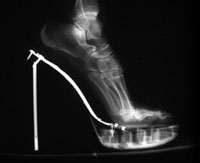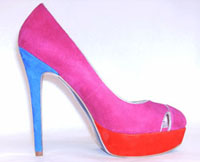 Prolonged wearing can lead to Bunions, Hammertoes, Morton's Neuroma, and Achilles tendon shortening and tendonitis.